STUDENT DEVELOPMENT
A STUDENT CENTERED COMMUNITY
Student Guidance and Discipline System (SGDS)

We want all our students to feel happy, safe and cared for at school. We place high importance on providing high quality pastoral care. Our students flourish knowing that they are valued as individuals within a structured environment with clear expectations.The pastoral care provision is augmented by the services of special needs teachers,educational psychologists and school social workers.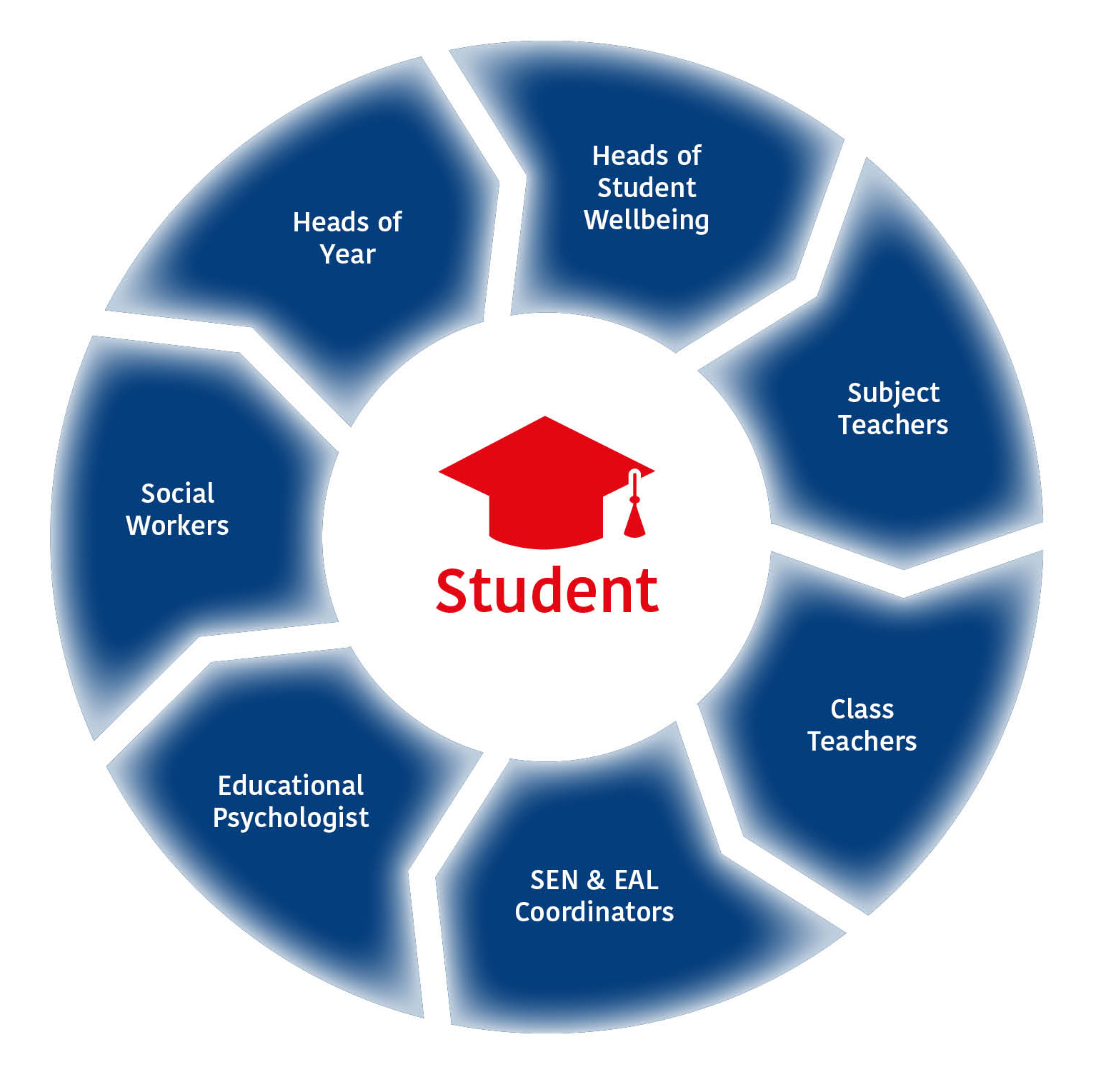 A Well-qualified and Dedicated teaching staff
We have highly committed teaching staff who are dedicated to enabling students to unleash their potential. Two Heads of Year (HoY), one western and one local, are responsible for the care and education of students in each form. They plan and work together to provide students with a variety of learning experiences.
The teacher/student ratio is approximately is 1: 8.5 All of our teachers are university graduates; 46% possess master's qualifications.Over 40% of the teachers are from overseas including the UK, USA, Canada, Ireland, France,Spain, Japan, India, South Korea, Austualia, Nigeria, Philippines, etc. Our teachers believe in 'lifelong learning'. We have a comprehensive Professional Development Programme that provides a framework for all teachers to continually upgrade their professional skills. This includes elements such as peer observation and collaborative lesson planning.
Form
Class
Class Teacher
Heads of Year (HoY)

1

1Y
Ms Susanna YIU
Mr Herald PEDREGOSA

Ms Angelina MOK
Mr Paulo FULLER

1M
Ms Gloria PUN
Mr Michael KU
1C
Ms Amy CHEN
Mr Ringo MA
1A
Ms Feerica PEDREGOSA
Mr Brian YIP
1H
Ms Fernandez Rodriguez SARAY
Mr Ken WONG
1K
Ms Joyce PUK
Mr Anders LAM

2

2Y
Ms Michelle SMITH
Mr Doulos TAM

Ms Samantha LEACH
Mr Paul WONG

2M
Mrs Lisa BACZKOWSKI
Mr Hong Shing LEE
2C
Ms Betty CHOI
Mr Nicholas CHU
2A
Ms Patsa HEUNG
Mr Louis JOSEPH
2H
Ms Hayley SIMMS
Mr Mike CADANO
2K
Ms Lorraine CHOW
Mr Max WONG

3

3Y
Ms Leah EUN
Mr Andy CHAN

Ms Yvette MORIN
Mr Paul WILLIAMS

3M
Ms Holly TAU
Mr Patrick SHIN
3C
Ms Wendy CHOW
Mr Yusuf ALEJO
3A
Ms Annie CHENG
Mr David YEUNG
3H
Ms Natalie LAU
Mr Andrew KOO
3K
Ms Hee Jo HAN
Mr Jocelyn GAGNON

4

4Y
Ms Monica LAM

Ms Jacqueline LE
Mr Evaristo MAYEMBA

4M
Mr Jonathan CALLAGHAN
4C
Ms Charlotte LEUNG
4A
Mr Mark BASFORD
4H
Mr Chris MCLAREN
4K
Mrs Amy CALLAGHAN

5

5Y
Ms Stephanie HO

Ms Annie WONG
Mr Bradley TUFF

5M
Ms Yim Yee YU
5C
Ms Sarah SZE
5A
Mr Tommy KWAN
5H
Ms Catuxa Argibay SANTIAGO
5K
Mr William CHAN

6

6Y
Mr Eric WONG


Ms Leanne STARK
Mr Angus YUNG

6M
Mr Curtis LAM
6C
Mrs Dimple DEANS
6A
Ms Yuko KANA
6H
Mr Mark CLEMENSON
6K
Mrs Hannah MCLEOD
A Listening Community

We believe that a great school listens to all its stakeholders as it self-evaluates and makes plans for continuous improvement. Therefore we place importance on hearing the voice of students through an elected Student Council and the parents through the Parent Teacher Association. A happy and healthily developing teenager is the product of a three way partnership between the home, the school and the student themselves.